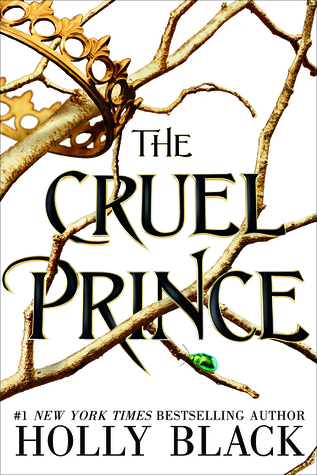 I've never been a huge fan of "faerie" books, and in fact, avoided them for the most part as a teen. Now, they have gone through a sort of renaissance in the YA readership - with S J Maas' A Court of Thorns and Roses series serving as a particular point in the journey - and while I'm happy to try out some of the newer and buzzier titles, they're not something I take particular stock in as a genre.
After a significant amount of disappointment experienced when reading the much-hyped An Enchantment of Ravens, I wasn't feeling particularly interested. However, another book came out at the same time, from an author I trust to write compelling and non-cliched "faerie" tales: Holly Black.
The Cruel Prince - the premiere title in the forthcoming "The Folk of the Air" series, by NYT Best-selling Author Holly Black
- follows the story of a young woman named Jude, who, along with her two sisters, was kidnapped and forced into the world of the Fae as a child. Contending daily with a society that resents her humanity and finds her unworthy, she is determined to find her own fate in their midst, no matter the cost. However, when it comes to spying for one of the Court's menacing princes on the eve of a Coronation, she might give up more than she bargained for... but she could gain more than she ever thought possible.
Here's why I was so confident going in that I was going to like this book:
I love Holly Black
. I was a fan of her work as a kid, reading the
Spiderwick Chronicles
in the school library, and was pleasantly surprised in college, when I read
The Darkest Part of the Forest,
to find that I still loved her voice. When I heard she was coming out with a new novel - especially with one that has a cover as beautiful as
The Cruel Prince
- I decided to read it, despite my misgivings about the faerie genre on the whole.
Spoiler alert:
It was so good. So good.
And I'm so excited for the rest of the series.
Every once in a while
you check out a book from the library, read it, and then are overcome with a sudden sense of remorse that you hadn't bought it for yourself
, instead. That's this book. In fact, I haven't completely ruled out purchasing it yet entirely, because apparently the Barnes and Noble edition has an extra short story in it.
The
main characters to the plot were dynamic and interesting
, without sacrificing their relatable nature or plausibility. Even negative or harmful actions still had empathetic origins. The
faerie characters were not written with the tropes of their mythology strictly for the sake of maintaining it
: their tendencies toward brutality and cruelty were explained, and never taken for granted. When killed, their destruction was made more violent and shocking by the fact that they were immortal, and not less.
And it's not like some of the other paranormal-contemporary-romance books found in the YA category that rely on secret civilizations of fantasy creatures, where you could easily swap them out for a different creature and the story would still make sense, like replacing vampires with werewolves with mermaids, etc.
The Cruel Prince
's
plot and characterizations are very much rooted in the idea of the fae, and the knowledge of parts of their folkloric background.
The plotline was one I don't think we've seen taken on quite as successfully in YA: while there's no shortage of orphans in the genre, I can't think of many where the teen actively works to not only remain in the world of their parent's murderer, but acts specifically to seek their approval and status within the civilization.
There are layers to the status of Jude and Taryn (her sister) as outsiders
, and the various parts they are asked to play in their otherworldly surroundings, and one of the key ones is that they want to stay, by their own individual means.
And of course, they also include some characters from
The Darkest Part of the Forest
in a brief set of cameos, which I was overjoyed to see.
Final Verdict:
It doesn't surprise me at all that as soon as I turned this book back into the library, there were several ready in the hold line to take it. The hype is well-matched with the follow through.
Are there any YA genres that make you wary? Are you a fan of Holly Black? Let me know, in the comments below!